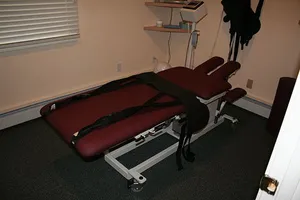 What is 3D Active Track?
The 3D ActiveTrac is a new breakthrough in non-surgical traction treatment of the back and neck.
What makes the 3D ActiveTrac unique?
The 3D ActiveTrac combines traction, decompression* and 3D movement all in one device. This allows your clinician to position your body perfectly for treatment, to address underlying problems that are unique to you. Since the spine moves in many directions, it only makes sense that the table does too. The 3D ActiveTrac provides a safe and effective way to deal with back and neck pain and help avoid unwanted surgery.
How does the 3D ActiveTrac work?
Decompression* combined with specific positioning takes pressure off structures in your back and neck that are causing pain. After just one treatment on the 3D ActiveTrac, patients have reported less pain and more mobility. Patients around the world have found relief from chronic pain, herniated discs, degenerative disc disease and sciatica with this cost-effective treatment.
Potential benefits of treatment on the 3D ActiveTrac
Pain Relief without Surgery

Improved Quality of Life

Increased Mobility
For more information about 3D Active Trac, Call us at 401-944-2221
Click Here to view our new table